Nielson Brown Outdoors did a simple write-up about cookpots a few days ago and it got me to thinking I haven't really written about what I've come to call my "go to" cook set up. There's nothing special about it, and it's not the most minimal or the lightest kit out there – but it works for me in terms of volume, weight, ease-of-use, and comfort. I do have other setups that I take out with me in exceptional conditions such as winter or when I'm trying to travel SUL but time and time again the setup below is what I use.
---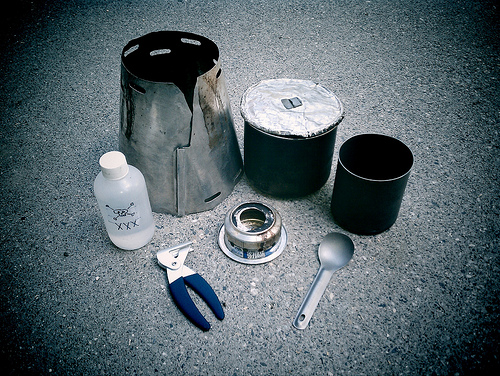 ---
Antigravity Gear alcohol fuel bottle
Trail Designs Caldera Cone
MSR aluminum pot gripper
Trail Designs Caldera stove
Snowpeak 900mL (handles removed, DIY lid)
Backpacking Light Short-handled Titanium Spoon
Backpacking Light 475 mL Trapper's Mug
---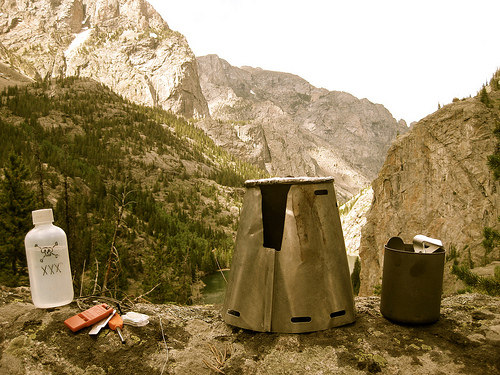 ---
I've come to really appreciate this setup. I roll the Caldera Cone up and place it into the pot. Next the Trapper's Mug sits inside that with the stove at it's bottom, the fuel bottle atop that, and the spoon and gripper alongside it. Â The lid fits atop all of it and it's gets perfectly fitted into a silnylon stuff sack I sewed up a few years ago.
---
It would be very easy to argue that this kit could be minimized from seven items to four but I like having the 475 mL mug for coffee or whisky for sipping on while I'm preparing my meal. Â The pot gripper is so sturdy and easy to use that the weight penalty is worth it to me. Â And lastly although there are many who use stoves that don't require a stand of any type I will argue then near-perfection that is the Trail Designs Caldera with great vigor. Â It's speed in heat transfer, nearly untippable nature, and general cleverness are well worth it's weight in my ruck.