Our daughter was born in January and our hopes for the summer were to get out camping as many times as we could to let her experience sleeping outside the home as the regular way of the life in our family.  We managed to spend something like 20 nights in our pop up camper trailer and a couple nights in a tent but these were all in the front country and we had not yet taken her backpacking
Going out on a low mileage but true wilderness backpacking trip was something we really wanted to do before the snow fell this Fall so even though it was the season opener for rifle hunting I decided to push that back a week and we gathered our gear for a trip into Yellowstone National Park.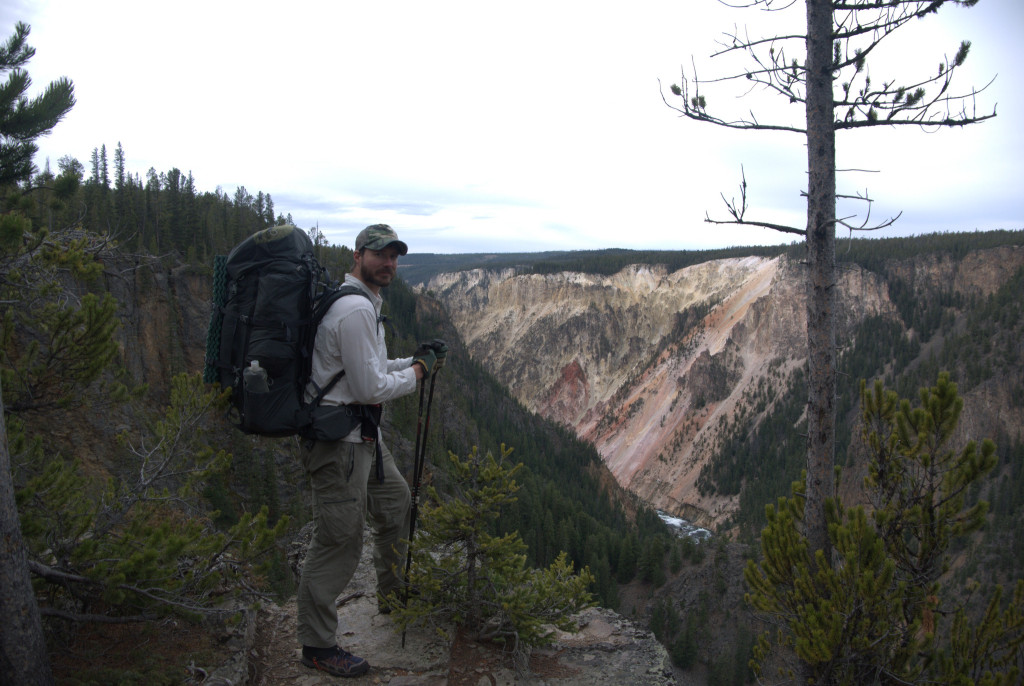 Torie had Mae on her back in our vintage Tough Traveler kid pack as well as as much other gear as would fit in the lower storage section. Subsequently I was responsible for everything else and as such I borrowed the Kuiu Icon from the gear library at work in the 5200 cu. in. (85 liter) size.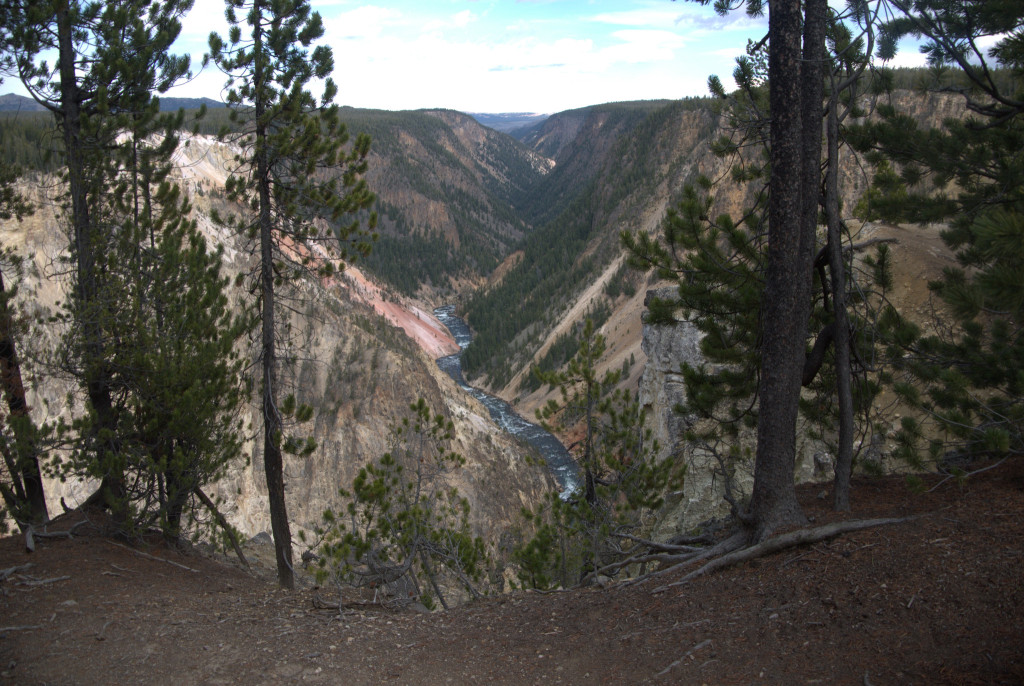 We chose a campsite in the Canyon area of the park which is my favorite. The incredibly steep, sulfur-strewn canyon walls that sweep majestically down into the Grand Canyon of the Yellowstone River are about as impressive a site as I've seen anywhere. Our campsite was situated a few miles from "Artist Point" and the well-worn trail leading out to it followed the canyon rim closely for much of the journey.
We arrived at camp a few hours before sunset and with temperatures set to be near or below freezing overnight I immediately set about gathering and sawing wood for use in our tent wood stove.  Torie played with Mae while trying to get our sleeping gear set up as well so when night time did set in on us we'd have our shelter all set to go.
We cooked up a batch of couscous topped with a delicious pesto sauce served alongside sliced pepperoni and then washed it down with chocolate cookies and a few splashes of whiskey.  We brought along some organic pre-packaged food for Mae which, like pretty much everything we've ever fed her, she lapped up eagerly.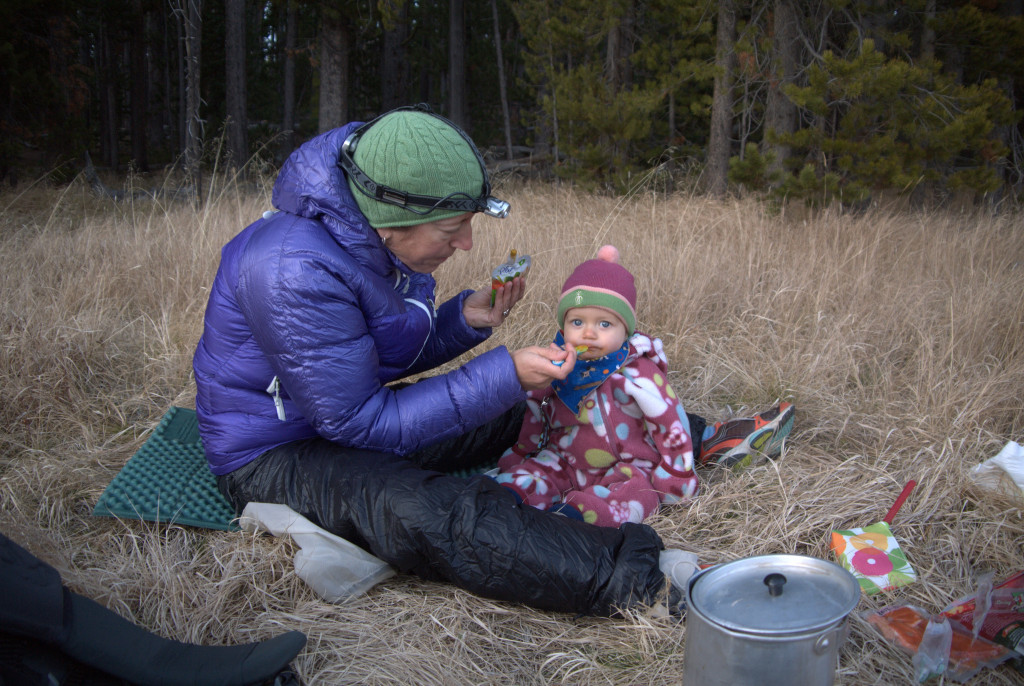 Nighttime falls early in these parts but I set about putting a warming fire into our little wood stove which is designed perfectly for our tipi (both are the awesome little cottage gear company, Titanium Goat).  Temperatures quickly reached the height of comfort and soon enough we were sitting around in short sleeves and no hat.
Mae awoke at around 2am giving a little cry and although she seemed plenty warm she was awake and not ready to fall immediately back to sleep. Â I took the time to start up a new fire in the stove while Mom nursed our little one. Â We stayed awake talking for about an hour until Mae was able to fall back asleep which lasted until 7:20 in the morning.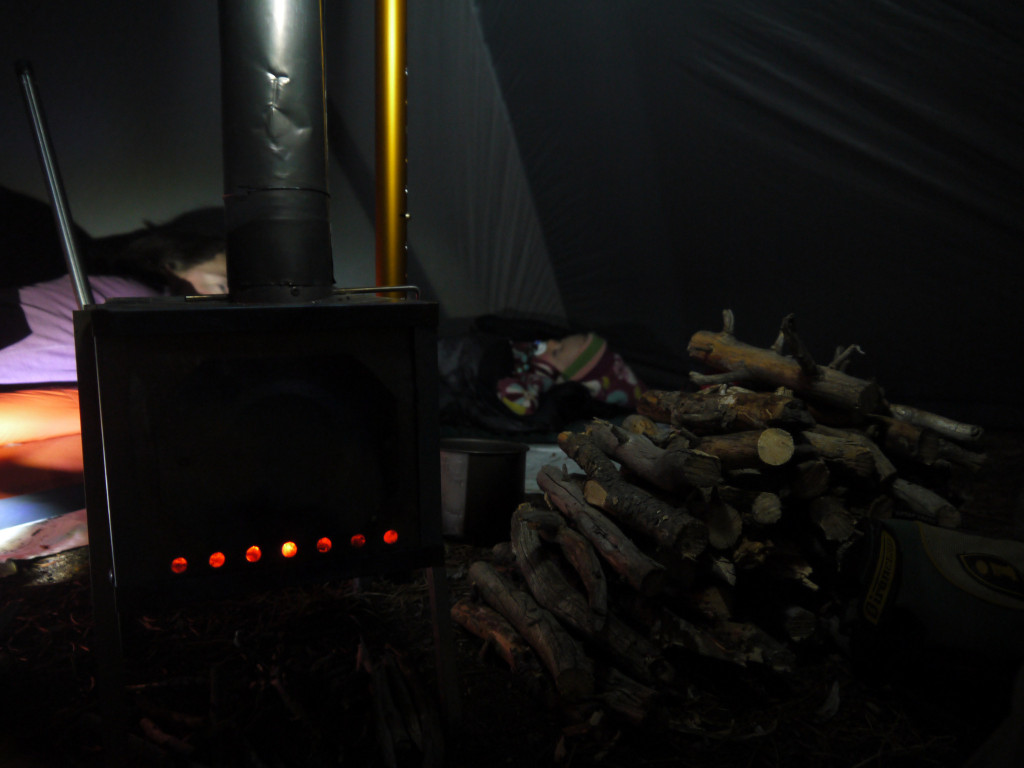 It was a brisk morning but a re-kindled fire in the wood stove followed by hot coffee and warm granola made for delightful times as the sun shone over the trees and onto the lake causing the ground frost and mist over the lake to simply sparkle.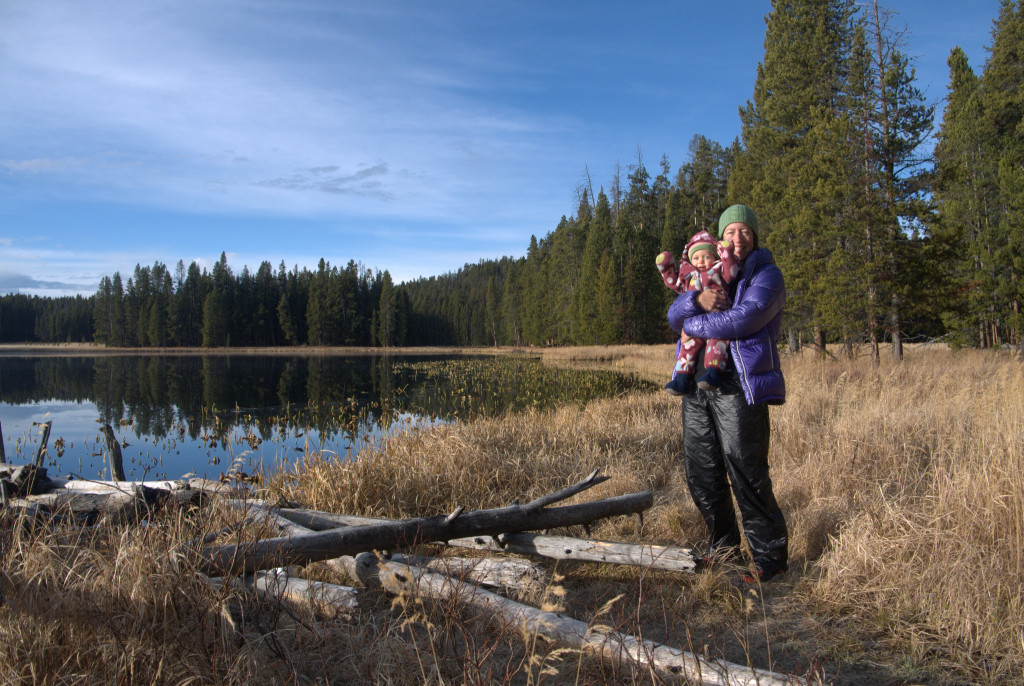 We drove home at a leisurely pace taking the time to enjoy just how empty the park is at this time of year.  Some of the spots we stopped and enjoyed are typically buzzing with hundreds of tourists during the peak season and for us to be able to sit and enjoy a view for a solid 30 minutes while only seeing a handful of other people was really quite enjoyable.  Even the grizzly sightings we had to and from our trailhead had but a few cars stacked up at the site – something that in the summer could easily have turned into an hour-long traffic jam.  Not taking the simple pleasures of where you live for granted is a very important lesson, wouldn't you say?